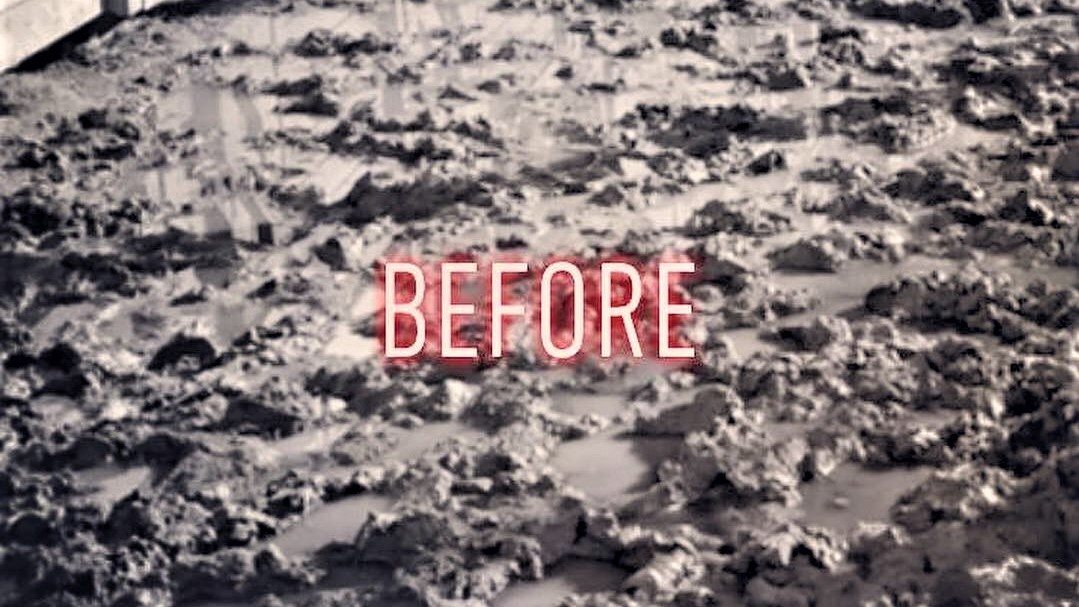 Many barns face flooding and mud problems both under shelters and out in the fields, particularly by gates and on inclines. Our issue was the former, where intense rainfall would lead to flooding around the outer perimeter of our barn. While our horses have full turnout and only come in for feed and medical concerns, any type of flooding was annoying enough to research potential solutions. Even outside the barn and under its overhang, the amount of rainfall got to the point where the covered area would stay muddy and refuse to dry out even in hot temperatures. It would get to the point where the horses would even prefer not to stand in the covered section due to the thickness of the mud.
With enough research into mud and erosion solutions, geotextile grids became a proven savior for RPE's mud control. The process was simple, requiring the area to be prepped, laying down the geotextile products, and filling it in with one's choice of material. For RPE's barn, prepping involved digging 6" deep to be below the stall doors and sloping downhill and away for drainage of heavy rainfall. After digging and checking measurements, it was time to lay down the geotextile fabric. Once the fabric was down, a geotextile grid of 6" height was spread out and anchored by simple tent spikes. Once the grid was secure, gravel was layed down across the grid so that all of the grid's lines were completely covered. Once the gravel was in the grid both by tractor and wheelbarrow, the gravel was compacted down by weight of a tractor and the weight of the horses over the next few days. As the gravel started getting packed down more, more gravel was added to once again cover the grid lines peeking out.
Another note for budgeted equestrians, this DIY barn project was done over several days and in two separate parts before the section was complete. The generic geotextile fabric and grids were purchased via Amazon at a much cheaper cost than any of the horse-labeled mud solution products were marketed for. I ordered 5 tons of Crush and Run gravel from Mulch and Stone (MD) for the first half and ordered 7 tons of gravel for the second half with the extra to be spread over the completed project. The solution has held up reliably well in heavy rainfall so far and even when wet, it has remained sturdy and comfortable enough for the horses.